April 5, 2021
Dear colleagues,

We are delighted to announce that the 10th Asia-Oceania Human Proteome Organization (AOHUPO) Congress is scheduled to be held June 30 (Wed) - July 2 (Fri), 2021 in Busan, Korea. On behalf of Organizing Committee, I cordially welcome you to this exciting event. This will be a very special occasion celebrating the 20th anniversary and the 10th meeting of AOHUPO.

The theme of this joint conference is "Proteomics: From Dark to Bright". Plenary lectures and symposia are planned throughout the 3-day program. Working with Molecular and Cellular Proteomics, and Proteome Science, we are going to prepare special issues covering progress in proteomics reported at 10th AOHUPO. One special session is dedicated to celebrate the 20th anniversary of AOHUPO. I am sure this conference will provide an excellent opportunity for sharing ideas and building friendship among all the participants.

I look forward to greeting you all in Busan at the 10th Asia-Oceania Human Proteome Organization Congress.



Je-Yoel Cho, DVM, PhD
Professor / Associate Dean of Academic Affairs
KHUPO President / 10th AOHUPO Chair
Department of Biochemistry, College of Veterinary Medicine
Seoul National University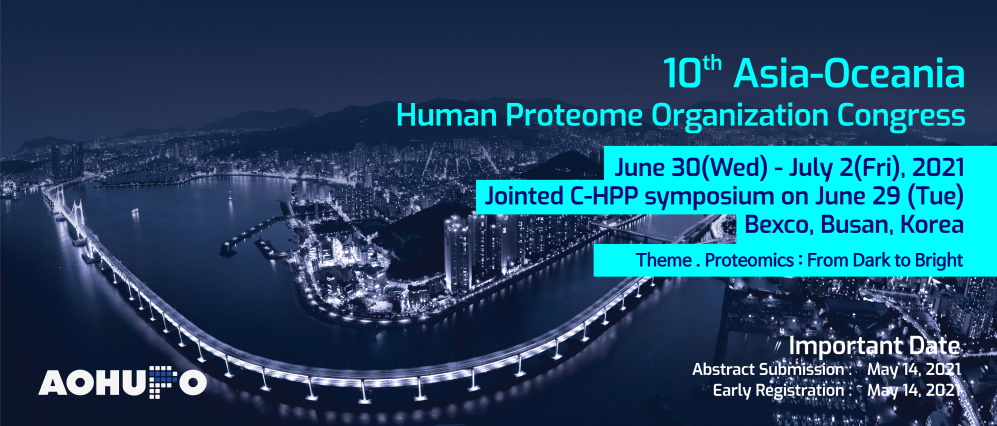 Please visit the conference website for more information, https://aohupo2021.org/main/main.php