It is my great pleasure to invite you to attend this 13th International Symposium of the Protein Society of Thailand (PST). Since its foundation in 2006, PST has arranged annual symposia for protein researchers and students to exchange their knowledge, experience and expertise with invited speakers, overseas scientists, senior researchers, and young scientists.
All Abstracts and Proceedings submitted to this international symposium have been critically reviewed prior to oral or poster presentation, and publication. The Organizing Committee also works with companies to arrange booths for the exhibition of equipment and supplies for protein research, as well as Luncheon Lectures.
PST also co-hosted conferences with the Asian Oceanian Human Proteome Organization in 2014 and the Asia Pacific Protein Association in 2017. Currently, I am President of APPA for 2017-2018, to be succeeded by James R. K. Cairns for 2019-2020. All of this helps increase the international visibility of protein science in Thailand.
The Organizing Committee is very grateful to the Chulabhorn Research Institute, Thailand Research Fund, and Mahidol University, as well as other organizations for their support. I hope that you will accept this invitation to attend this 13th PST Symposium, not only to learn about recent advances in protein research but also enjoy your activities with other protein scientists.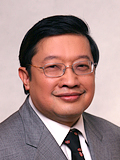 Emeritus Professor
M.R. Jisnuson Svasti
Chairman, Organizing Committee,
13th PST International Symposium,
April 3, 2018